This week's mostly neutral withdrawal of 163 Bcf from storage came nowhere close to last year's pull of 273 Bcf and the five-year average of 185 Bcf for the same time period. That being said, the continued pattern of lighter than projected draws over the past few weeks has resulted in current inventories finally surpassing last year's working storage for the first time in months, but the five-year average still sits about 11% higher than the present inventories of working gas. Weather was mostly supportive of the light withdrawal, even with the colder than normal Midwest and East regions comprising just over two-thirds of the 163 Bcf draw. The next two weeks will be important in determining end of season storage values, as a polar blast is shown to arrive between January 29
th
 and February 3
rd
, followed by a brief warm spell from February 4
th
 to the 7
th
, then another frigid pattern after that. NYMEX futures on the prompt month will more than likely continue to see the same swings it's been experiencing for the past three months, and while the heart of winter has passed, there's still a possibility for upward momentum as we head into February.
Working natural gas in storage currently stands at 2,370 Bcf, which is 33 Bcf (1.4%) higher than this time last year and 305 Bcf (11.4%) lower than the five-year average.
The February 2019 NYMEX Futures price began the day around $3.09/MMBtu prior to the report's release, but has since risen to $3.13/MMBtu after the report was posted.
Outlook for the Balance of Storage Season:
The graph below compares historical 12, 24 and 36 month strip prices and storage levels for the past 5 years.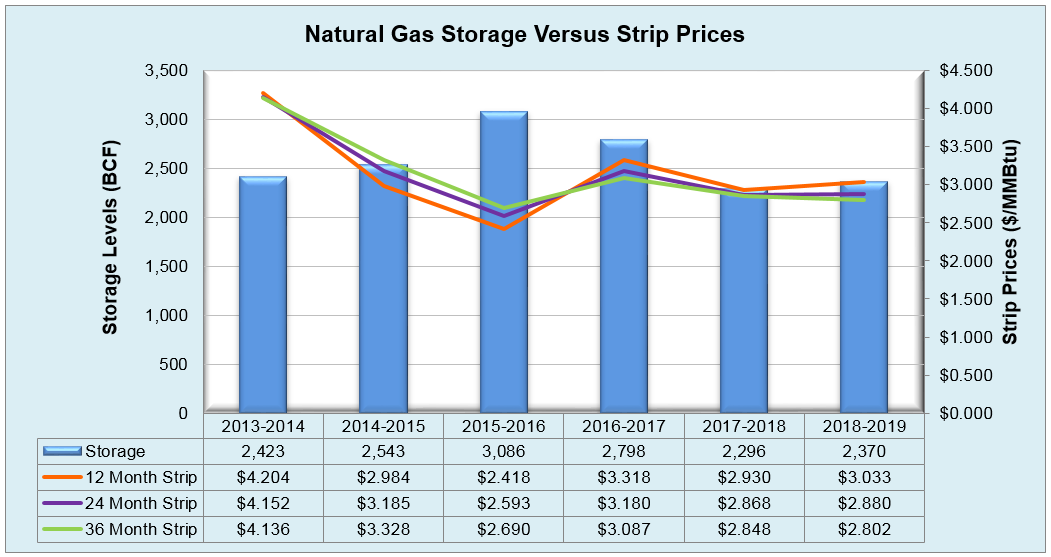 The following table shows the injection numbers we will need to average by week to hit selected historical levels:
The following two graphs show current natural gas in storage compared to each of the last 5 years and weekly storage averages and patterns.
The graph below shows the injections through the current week over the past 5 years.
Finally, the graphics below depicts the 6 to 10 day temperature range outlook from the National Weather Service.
Current Week's Outlook
Future Outlook