Another week of below average natural gas injections continues to widen the storage deficit against the five-year average as the EIA reported a bullish 24 Bcf build that fell noticeably short of the market expectation of 36 Bcf. This sparse injection somehow managed to exceed last year's build of 19 Bcf, but it has yet again compared poorly to the five-year average during the same timeframe, which is reported at 46 Bcf. The South Central and Pacific storage regions both experienced withdrawals during the week ending July 20
th
, and the extreme heat seen in Texas was cause for multiple days of record breaking demand in ERCOT that saw triple (and even quadruple) digit real time prices per MWH across the ISO. Furthermore, production has retreated slightly from its frequented 80 Bcf/d mark  to 78.65 Bcf/d, allowing an opportunity for the bulls to charge forward and potentially test a resistance number of $2.80/MMBtu. With thin storage injections, a small lull in production, and mostly supportive weather across the Lower 48, the market may finally reflect the bullish tendencies it's been providing the past few weeks.
Working natural gas in storage currently stands at 2,273 Bcf, which is 705 Bcf (23.7%) lower than this time last year and 557 Bcf (19.7%) lower than the five year average.
The August 2018 NYMEX Futures price began the day around $2.77/MMBtu prior to the report's release, but has since increased to $2.78/MMBtu after the report was posted.
Outlook for the Balance of Storage Season:
The graph below compares historical 12, 24 and 36 month strip prices and storage levels for the past 5 years.

The following table shows the injection numbers we will need to average by week to hit selected historical levels:
The following two graphs show current natural gas in storage compared to each of the last 5 years and weekly storage averages and patterns.
The graph below shows the injections through the current week over the past 5 years.
Finally, the graphics below depicts the 6 to 10 day temperature range outlook from the National Weather Service.
Current Week's Outlook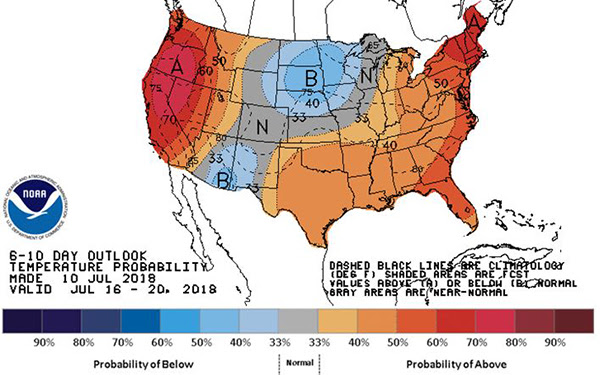 Future Outlook