After a small reclassification of 4 Bcf, the implied flow of this week's supposedly bullish withdrawal was reported at 87 Bcf, which exceeded market expectations by over 10 Bcf. The last two weeks have seen storage inventories fall more in line with last year's reserves, particularly due to a massive withdrawal of 359 Bcf last year, but they are still 15% lower than the five-year average. Mostly temperate weather has provided a breather for a market that continues to see volatility left over from last year, but expected cold at the end of January could possibly have the prompt month hold over $3/MMBtu if "…the early morning and midday weather data see solid cold potential Jan. 20-25, especially the GFS model that remains the most intimidating/coldest of the datasets," as stated by Natural Gas Intelligence. NYMEX seemingly has returned to a mostly sideways trading pattern for now, but we still have a few weeks left of winter that could show otherwise.
Working natural gas in storage currently stands at 2,614 Bcf, which is 204 Bcf (7.2%) lower than this time last year and 464 Bcf (15.1%) lower than the five-year average.
The February 2019 NYMEX Futures price began the day around $3.05/MMBtu prior to the report's release, but has since dropped to $3.02/MMBtu after the report was posted.
Outlook for the Balance of Storage Season:
The graph below compares historical 12, 24 and 36 month strip prices and storage levels for the past 5 years.

The following table shows the injection numbers we will need to average by week to hit selected historical levels:
The following two graphs show current natural gas in storage compared to each of the last 5 years and weekly storage averages and patterns.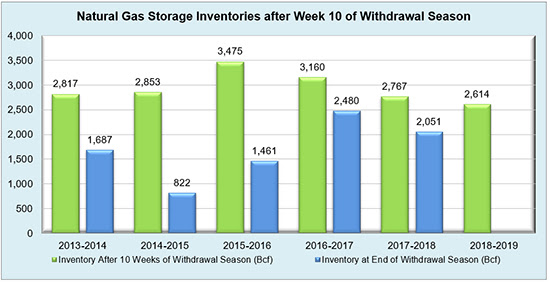 The graph below shows the injections through the current week over the past 5 years.
Finally, the graphics below depicts the 6 to 10 day temperature range outlook from the National Weather Service.
Current Week's Outlook
Future Outlook