As withdrawal season approaches its final month, this week's slightly bearish pull of 166 Bcf ended up being much larger than normal when compared to last year's draw of 85 Bcf and the five-year average of 104 Bcf for the same time period. The reporting period had little to show for any notable fundamental news, but the first week of March is expected to bring some cold risks that will be realized on a storage report closer to the end of the season. Major power hubs continue to stay mostly level since the short-lived polar vortex in January, and even with the potential of another blast of near-record cold weather on the way, upside risks on NYMEX futures are yet again expected to only be realized for the short term. All in all, it seems like another uneventful week following the rollercoaster of volatility that was this past winter.
Working natural gas in storage currently stands at 1,539 Bcf, which is 154 Bcf (9.1%) lower than this time last year and 424 Bcf (21.6%) lower than the five-year average.
The April 2019 NYMEX Futures price began the day around $2.83/MMBtu prior to the report's release, but has slightly dropped to $*2.82/MMBtu after the report was posted.
Outlook for the Balance of Storage Season:
The graph below compares historical 12, 24 and 36 month strip prices and storage levels for the past 5 years.

The following table shows the injection numbers we will need to average by week to hit selected historical levels:
The following two graphs show current natural gas in storage compared to each of the last 5 years and weekly storage averages and patterns.
The graph below shows the injections through the current week over the past 5 years.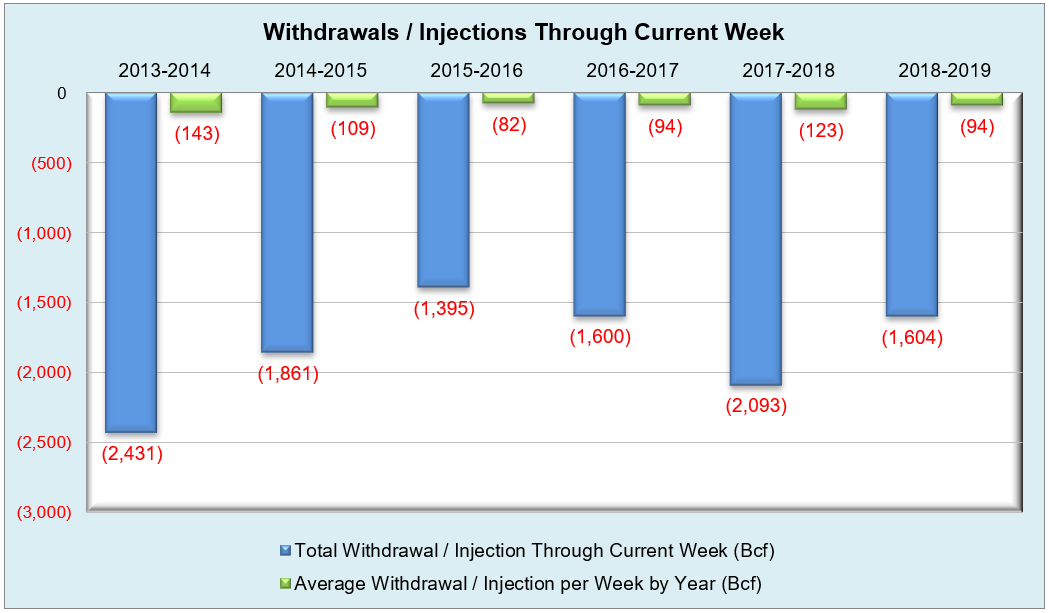 Finally, the graphics below depicts the 6 to 10 day temperature range outlook from the National Weather Service.
Current Week's Outlook
Future Outlook